DISC Psychometric Profiling is non-judgmental and helps individuals recognise and discuss their behavioural differences. DISC is widely used as a personal assessment and awareness tool to improve work productivity, communication and teamwork.
The DISC Profile identifies the individual's key strengths and development areas, as well as the goals and fears that typically motivate the individual and underly their expectations of others.
It can be integrated to add real value in a range of training workshops including:
Teambuilding
Communication
Conflict Resolution
Diversity and cultural difference
Leadership
Coaching Skills for Managers
Motivation.
To get your DISC Profile, contact us here or read on for more information.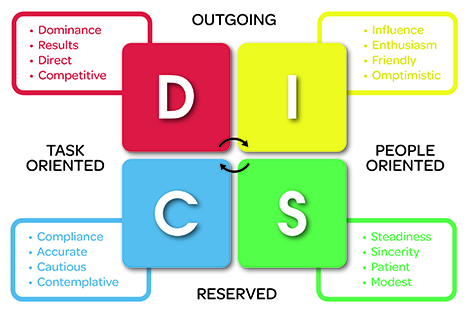 What does DISC stand for?
The 4 styles identified by the DISC profiling system are:
D – Drive
I – Influence
S – Steadiness
C – Compliance
To know more about about DISC possibilities for you, please click here
How does DISC Profiling work?
If you participate in a DISC programme, you first complete a 7-minute questionnaire, a series of questions that produces a detailed report about your personality and behaviour. This is your DISC Profile.
This easy-to-use psychometric assessment tool is designed to stimulate personal and organisational growth more than as a recruitment tool (although it can be successfully used in recruitment when administered by a qualified DISC Practitioner).
To get your DISC Profile, contact us here.
What are the benefits of DISC?
DISC Profiling helps you and your team to:
Increase self-knowledge: how you respond to conflict and change, what motivates you, what causes you stress and how you deal with it
Learn how to adapt your own communication style to get along better with others
Foster constructive and creative group interactions
Facilitate better teamwork and minimise team conflict
Develop stronger sales skills by identifying and responding to customer styles
Manage more effectively by understanding the priorities and behaviour of staff and team members.
I liked learning about how other types think. How/how not to act when interacting with them. I'm going to read colleagues' reports & learn how to interact with them.

Helena, Technician
It's so accurate. I'm using it with the team now. I'd like to use DISC when we recruit.

Sam, Senior Manager
I'm going to learn to speak up and contribute in meetings.

Ola, Customer Service
Yes, I definitely feel the profiles are very beneficial within the work place as we can now relate more to one another. The most useful information learnt is knowing how people cope under stress.

MC, Operations