How to get started with DISC Profiling
DISC is an easy-to-use psychometric assessment tool designed to stimulate personal and organisational growth. DISC stands for:
D – Drive
I – Influence
S – Steadiness
C – Compliance
Read on for more about about DISC possibilities for you.
How does DISC Profiling work?
You first complete a 7-minute questionnaire which produces a detailed report about your personality and behaviour. This is your DISC Profile and you will find it very accurate.
What are the benefits of DISC?
DISC Profiling helps you and your team.
You increase your self-knowledge and awareness, i.e.:
How you respond to conflict and change
What motivates you
What how you currently deal with stress.
You learn how to adapt your own communication style to the preferences of others. So:
You foster more constructive, creative group interactions
You identify and respond better to customers' communication styles
You gain stronger sales skills and results.
You understand the priorities and behaviour of staff and teams better, so:
You manage others more effectively
You facilitate better teamwork
You reduce team conflict.
Get started with DISC now
Step 1
Choose the DISC Profile that suits your goal and budget from the 3 below.
Complete the purchase to receive your personalised link to our quick online questionnaire.
Step 2
Once you complete the online questionnaire, we send you:
Your DISC profile and 15-page report
OPC video debrief with Alison Haill
Full transcript of the video.
Step 3
Experience our unique individual OPC debrief: this is where we differ from other DISC Providers. Your debrief with one of our DISC consultants ensures you maximise the DISC tool. Our consultant answers your questions and explains how you can maximise the DISC system in 5 ways:
With clients, colleagues and partners
To adapt your communication to suit other people's preferences
To convince and motivate others more easily
To create better business relationships
To improve relationships outside work too.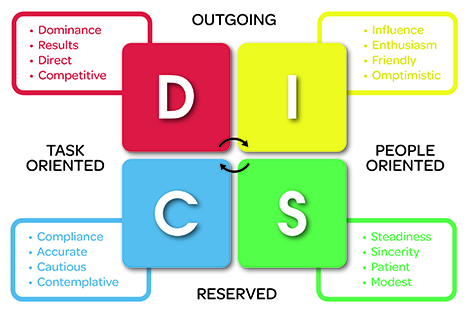 DISC Basic Indicator
£65 + vatper month
The online DISC questionnaire
Video Debrief Recording
Your own DISC profile
Your 15-page report
Video Debrief Transcript
*
*
*
DISC with Mini Debrief
£197 + vatper month
Everything in the DISC Basic Indicator
Mini 1:1 Debrief
Specialist DISC Consultant
Your questions answered
DISC system explained
Profile Accuracy Rating
*
*
DISC with Full Debrief
£550 + vatper month
Everything in the DISC Basic Indicator
Full 1:1 Debrief (2 hours approx)
Specialist DISC Consultant
Your questions answered
DISC explained with extra tips & examples
Profile Accuracy Rating
Specific DISC insights for you
Your Action Plan